When we were live stream stamping on Wednesday, someone mentioned that they'd like to see a fall card.  Of course, that means that we'll gt right to it.
And we did.
It's funny how something little can inspire you.  During the event, Ann grabbed a brand new stamp set that we hadn't used yet to prop up the arm of the Stamparatus.
And that was the stamp set that we decided to use.  Wonderful Moments.
Don't you think it makes a great card for a bride?
What's nice about making your own cards is that the accent color can be changed:  Cherry Cobbler would be wonderful for a red wedding.  Somehow, the card seems to mean more when you make it match the wedding.
I know that it's hard to see, but the Early Espresso square has been run through the Subtle Embossing Folder.  We used the Swirls and Curls Folder on the Bermuda Bay piece.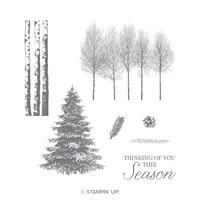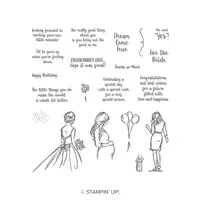 Card Making Tips
We really used a variety of coloring media when Ann sat down to do this:
The bride is stamped first in Early Espresso and then masked.
The trees are stamped in Crumb Cake.  They're from the Winter Woods stamp set.
The bride's ribbons are colored with Bermuda Bay Stampin' Blends.
Her hair is colored first with Crushed Curry and then with Soft Suede Stampin' Blends.
The folds in her dress are shadowed with a Blender Pen and Crumb Cake ink (pressed from the pad) in the lid.
Does that help?
Remember to use our current shopping code 93VAH6DW when you're visiting our online store so that we can give you all this:
Handmade reusable card in your mailbox
Sampling of current product
At least 4 free project tutorials in your inbox.
Don't use the code if your order is $150+ so you can enjoy Stampin' Rewards. We'll still send you everything.
Track your purchases with this form and earn free stamps and Big Shot Dies exclusively from me and Ann.
What a great handmade card idea!