On last Friday's show, Ann mixed retiring items with new colors to make this butterfly card. She also didn't realize that she was losing her voice until she started the show.
Healthwise, it all went down from there. She was so sick that I couldn't even get her to type for me! She couldn't even translate my pup-o-graphic messages!
But I think she's back on the road to recovery….at least, I think she's on the first step.
If she had felt better, she probably would have shown more ways to use this cool layering mask. But here's the finished card.
Isn't it pretty? She used two new colors that will be released in the new catalog next week:
Those Glossy Dots #158827 and the Starry Sky Metallic Woven Ribbon #159198 will be in the new catalog starting May 3rd as well.
PSST! If you're interested in getting all the new IN Colors, be sure to check out our IN Color Club that's starting next month. It's unique and perfect for those who want the inks, papers and ribbon in all the new IN Colors but not all at once.
But these three things won't be in the new catalog. The dies aren't available after May 2nd (unless they sell out first). They're great even without the coordinating stamp set because the label shapes are so universal. They work well with lots of phrases and images.
Sale: $28.80
Price: $36.00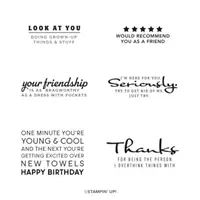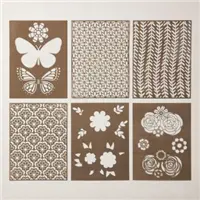 While the Bragworthy stamp set and the Butterflies & Flowers Layering Decorative Masks aren't in the new catalog, you will be able to get them while supplies last or June 30th – whichever comes first.
You're running out of time to grab up to 50% off on the retiring list. Check out the list here or see what's available in our online store.
Did You Miss the Butterfly Card Show?
If you would like to see how we made this card, you can watch the show below or watch it here on YouTube.