I had a few suggestions for Ann on how to make a treat box with no adhesive.
We had a little chat about how to find just the right treat to put inside the small treat box.
These Lindt Truffles are just the right size. The gnome told me so.
You can pick whatever flavor you like, but we thought people would like these and they would compliment the Mercury Glass Designer Acetate.
You can make four of these little treat boxes from one sheet of the Mercury Glass Designer Acetate using the Mini Curvy Keepsakes Dies .
There are two sprigs dies that come in the set. We used those to cut the springs out of Garden Green card stock.
In fact, there are lots of extra shapes that come in the Mini Curvy Keepsakes Box Dies that make this a year round treat holder:
The 2 sprigs we're using
Heart
Star
Assorted shaped tags (Circle oval and square)
2 that fit small snowflakes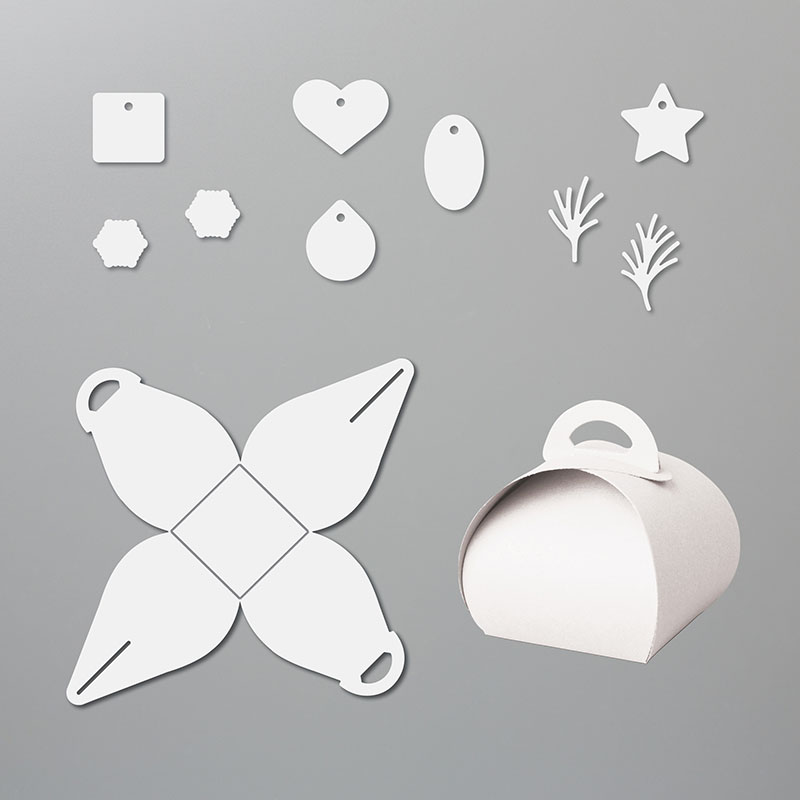 It seemed a little too plain with just the springs so we added a little color with 3 of the Real Red Rhinestones.
I think I like it better with the red rhinestone berries. I know that the sprigs aren't holly, but they still look good. What do you think?
And it was all done in minutes with these four things – and no adhesive! The sprigs easily stick into the slot and stay where they're put.
Since you probably have opposing thumbs, I recommend having a Bone Folder to keep your creases well folded.
We also have over 360 3-D project ideas here. I'm sure that there's one that will suit your fancy. At least I hope so. They may not all teach you how to make a treat box with no adhesive, but it'll be some great inspiration.
Before we share our picture list of supplies, remember to copy and use our current shopping code HE6RJU7M when you're visiting our online store so that we can give you all this:
All online shoppers get a handmade reusable card in your mailbox.
And at least 4 free project tutorials in your inbox.
Add a sampling of current product when you use the current code HE6RJU7M .
Don't use the code if your order is $150+ so you can enjoy Stampin' Rewards. We'll still send you everything.
Track your purchases with this form and earn free stamps and dies exclusively from me and Ann.
Plus we'll send you our next mini catalogs with even more ideas.