A sympathy card is hard enough to make, but one for a dear friend who has lost his son.
We don't want it to make him sadder, but we also don't want it too bright.
One thing I like about handmade cards is that you can stamp a greeting inside or write something personal on the inside or do both.
We're giving this one some personal thought for the inside.  Ann and my favorite huMAN don't get to see this man and his wife much so it pretty well demands a personal  note inside.
Do you notice the two new accessories that we used?
And then there's that new Layered Leave Dynamic Textured Embossing Folder.  Doesn't it look awesome?
Besides the So Sorry for Everything stamp set, we used the Blooms & Wishes stamp set that has many options for flowers of different sizes.
But do you notice the little glitch?  Honestly, it's more obvious in the picture than it is in real life.
Should I tell you now or let you guess?
We're sticklers for color because in our world, color is king!  So here it is!
> The card base is Soft Sky, but when Ann reached to stamp the flowers, she accidentally grabbed Pool Party. <
If it looked in real life the way it looks on the screen, we'd most likely do it over.  But when she holds it, it looks like the same color.
Whew!
Is something like that important to you?
If you're looking for Sympathy Card Ideas, we have over 35 Sympathy Card Ideas here.
You know, we really like the Sorry for Everything set because it's good for more than just sympathy cards.  It's great for those little mistakes that you want to repair.  It's got greetings for all types of little oopsies that can derail a relationship rather than make things worse.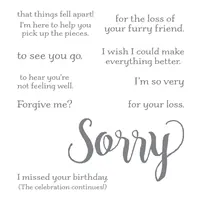 Remember to use our current shopping code EYNMNJNV when you're visiting our online store so that we can include a surprise sampling of one of the current Stampin' Up! accessories in the reusable card that we send all our online shoppers. Don't use the code if your order is $150+ so you can enjoy Stampin' Rewards. We'll still send you the gift and reusable card.

What a great handmade card idea!
Save
Save