Oh, do I love something new!
Ann was trying a few things and came up with this cool card with some interesting coloring options.  I think I'm going to have to make another one with a video for our Master Stampers.
That will top my to-do list for this week.  It will have to be pretty much the same card because I love this color combo!
Dapper Denim
Emerald Envy
Believe it or not, Ann did better with those decorations down the side eye-balling it rather than using a stamp positioner.  Or maybe it was her "beginners luck".
The flower is more sparkly than it appears here.  Even with the sparkle, my favorite huMAN loved it, but you know why.
Because it's blue!
We're sold out of the Basic Rhinestones, but I understand that they're replacing them with something very similar.  I've heard a rumor about different sizes.  I'm sure Stampin' Up! will have a suitable replacement.
Do you think they might one day come out with little dog bones?  Now THAT would be something special!
Remember that this stamp set is only available a few more weeks.  And I REALLY like that flower!  Don't you?
I just wish that shimmer came through more.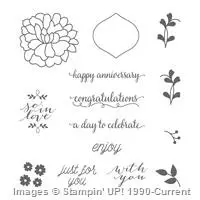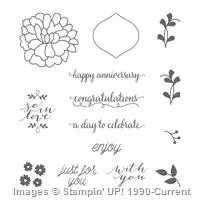 Remember to use our current shopping code GKRRENRR when you're visiting our online store so that we can include a surprise sampling of one of the current Stampin' Up! accessories in the reusable card that we send all our online shoppers. Don't use the code if your order is $150+ so you can enjoy Stampin' Rewards. We'll still send you the gift and reusable card.
What a great handmade card idea!