It's been a busy week and all of a sudden Ann pulled out an ink pad on our live stream to make grass on a card.
What was she thinking?
She must have been thinking clearly because it actually worked!
And she also gave some valuable tips about how to save postage when making a square card.
I think Ann has more energy when we're on in the 5pm Pawcific time slot. What do you think?
You can watch the video here on YouTube or watch it below.
Watching the replay isn't quite the same as being there live, but it's the next best thing. Ann shows how to make grass on a card right about the halfway point.
Afterwards, she used the Ivory Stampin' Blend to color his face. She was surprised that it didn't smudge the Basic Gray ink.
Then she colored his little hooves with a Soft Suede marker.
But Ann never told our viewers that they can get the Counting Sheep stamp set and the Sheep Dies for free with a qualifying purchase!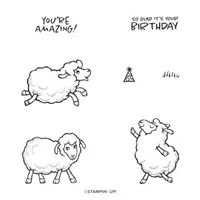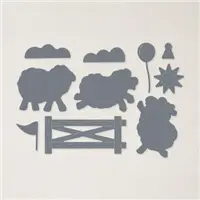 They are limited release stamps and dies only for August and September. But the dies are only available while supplies last because Stampin' Up! doesn't manufacture those.
You can get either the stamp set or the dies free with a $50 purchase (before tax & shipping). You can get both the stamp and dies with a $100 purchase.
NOTE: All of the Sweet Treats product shares have gone postal. Email notifications will go out late tonight if you haven't gotten one already.
Card Making Supplies