Did you enjoy my birthday yesterday?  Imagine!  A 3-day weekend just for my birthday!
So Ann made me a card with a stamp set we've wanted to use for a couple months now.  Maybe you might think that it's a bit girly but I think that it's just right!
I hope you'll agree!
Isn't it cool?
Do you recognize the set?  You might not, because it's in the back of the catalog with the hostess sets.  There are four ways that you can get these stamp sets:
Have your friends over for a Stampin' Up! workshop and they order $150+
Ann can do an online Stampin' Up! workshop LIVE with just you and your friends and everyone orders $150+
Collect orders from your friends of $150+
Order the $150+ yourself.
And when your order/workshop goes above $250, Stampin' UP! will give you a free limited edition set of Designer Series Paper that's only available this month!
What's extra cool about this 2-Step stamp set, is that you've got a lady that you can match up with different clothing and different things that she's carrying:
3 skirts
Balloons to hold
Books to carry
A cake to hold
A blank board and several greetings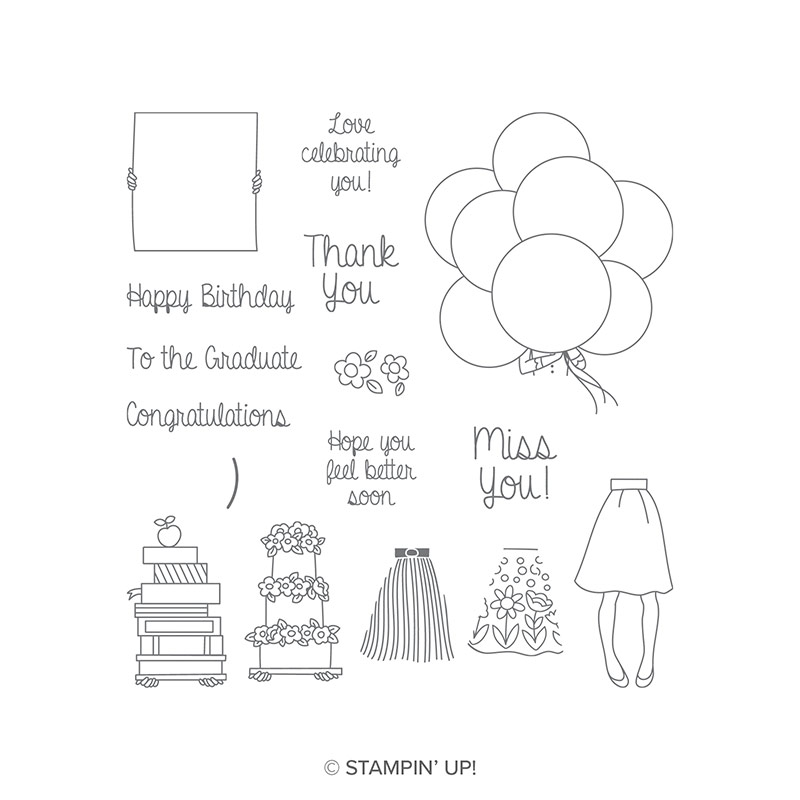 Now, if you were wondering how we colored the balloons, we used all these Stampin' Blends.  (NOTE:  The Real Red,  Mango Melody and Shaded Spruce won't be available until Wednesday, September 5th.  The dress and shoes are Real Red.)
Don't you just love it?  I do!  I like it a lot!   I hope Ann does more of them because she seemed so relaxed after she did the coloring!

What a great handmade card idea!