Can you believe that one of the items we used for today's card is FREE?  And I'll bet you won't guess the right thing either.
It's not the stamp.  That's from the new Beautiful Day stamp set.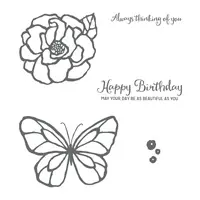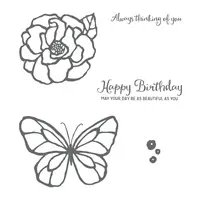 Were you wondering how we colored this? We used these newly released Stampin' Blends.
I think what really sets it off is the GOLD!  You can't beat our Heat Tool and Embossing Buddy to make the Gold Embossing Powder cling to the VersaMark ink.
Here's What You Get for Free!
Yep.  With a $50 order you can get 16 preprinted card bases and envelopes in 4 different colors and designs:
Calypso Coral
Daffodil Delight
Lemon Lime Twist
Pool Party
And those of you who used our host shopping code when you shopped with us in December are receiving a sample of these along with your reusable handmade card we're sending you this week.
Honestly!  Did you think that you could make something as pretty as this with some simple folding cards?  They're great to have on hand when you need something fast and fabulous.
Take a closer look!  Sparkle, sparkle!
You can make it in minutes for next to nothing!
Other than adhesive, that's what we used.  Ann had colored that butterfly to go with something else only to realize AFTER SHE COLORED IT, that the Designer Series Paper she was working with featured SILVER Metallic instead of Gold!
So other than the coloring, this card was done in about 5 minutes – and with a matching envelope too!
So, shop on, my friends!  But be sure to use the latest host code – .  We'll see you tomorrow when we go live on Facebook and You Tube!

What a great handmade card idea!