Tomorrow is the big day!  We get to stamp with you!
We'll post a link to the live streams on Facebook and YouTube tomorrow, but if you're worried about missing it, I would recommend that you register for a reminder by Facebook Messenger.
It's really easy.  You register here (if you're not getting reminders already) and then Ann sends a message by Facebook Messenger just before we start.  While the reminder comes by Facebook Messenger, it has links to both the Facebook even and the YouTube event.
As far as today's post…
The hardest thing about today was picking the project out to share with you!   We have a couple of them that we could pick from.  Three off the top of my head!
So how about if I show you the bird I watercolored in a different way?
Isn't it awesome?  It looks so rustic.  It doesn't even look like it's stamped!
But we did stamp it!
And we used the new Stampin' Blends!
Watercolor Tips
Here's how we put a twist on watercoloring.
Stamp the image that you want to color in a light color.
We used Sahara Sand
Color your image.
Color on the lines.  You can go a little outside the lines too!
When finished, we sponged around the sky and the edge of the Watercolor Paper with Balmy Blue.
Finally, we stamped the greeting from the Darling Label Punch stamp set with Basic Gray.
Layering on a small piece of Basic Black helps your watercoloring pop!
Do you recognize the stamp sets?  There are actually two: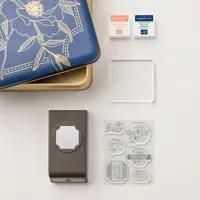 Yes! the word came from the new Darling Label Punch Box!
Yes!  You can use it without the punch!  The stamp police won't come take you away.
Watercolor Paper was a nice addition to the project.  And Stampin' Up! makes quality Watercolor Paper just like everything else that they do.
All our online shopping guests get a handmade reusable card in their mailbox AND at least 4 free project tutorials in their inbox.
Remember to use our current shopping code HUFQDEUX . when you're visiting our online store so that we can add even more to the list:
Sampling of current product
Earn Stampin' Bucks for every $50 of your purchase too!
Don't use the code if your order is $150+ so you can enjoy Stampin' Rewards. We'll still send you everything.
What a great handmade card idea!
https://www.stampinup.com/ECWeb/p