When I first looked at this card, it just didn't look right to me.  We get so used to putting a border around everything that we expect one to be there – ALL THE TIME!
But it doesn't have to be there all the time!
I'm here to keep Ann from getting in a rut.  Doing the same thing all the time is not going to stretch your creative muscle.
So, there's no border on the Marina Mist and there's no border around the card.  But that's okay.  We've got other interesting things going on with this card.
Like how we used the limited edition Eastern Elegance Premiere Bundle to make a sunflower!
Do you see how we layered two 2″ circles together for more depth in the Early Espresso?
And yellow isn't even close to Ann's favorite color – unless it makes you happy.  (NOTE:  The yellow in the picture below is more accurate than the close up above.  It's So Saffron.)
Since we're all sold out of rhinestones and pearls, Ann used one of the thinlet shapes to make centers in the blue flower background.
You sure do get a lot in the Premiere Bundle and it's only available this month!
We also used a couple cool things that are available while supplies last because they're on the retirement list – and they're both on sale!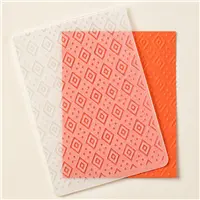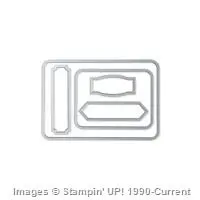 Card Making Tips
Test out what color you want to sponge the petals with on a scratch piece of cardstock before you commit to the shape.
We only used the stamp set and the coordinating thinlets for this card.
What colors did we use?

So Saffron
Early Espresso
Crumb Cake ink (for the petals because Early Espresso was too dark)
Marina Mist
Wild Wasabi

Purchase either the Starter or the Premier Eastern Palace Bundle and we'll send you 20 projects to make with it PLUS the 4 weekly projects we send all our online shoppers.  (A Stamper Dog Exclusive!)
Use the current hostess shopping code

GKRRENRR

and we'll send you a small sample of current Stampin' Up! product.

AND a reusable card to boot!
What a great handmade card idea!
Save