I think I'm going to like this Bunch of Blossoms stamp set.  It is just perfect!
It has 2 and 3 step stamping for dimension.
It has a matching punch.
It has lots of greetings for versatility
And my favorite huMAN helped Ann made 20 of these to share with her friends.  We hope they like them because they're trading their cards for ours.  Everyone likes to get a nice card back!
Do you think they'll like it?  I know that I do!
We're doing a video for our VIP peeps we call the Master Stampers.  There's a few design tips and ideas that work well with mass production that we want to share.
Here is the color combo that we used:
I think it's perfect for a flower card, don't you?
And just one stamp set that you can get on its own OR save 10% when you buy it in a bundle.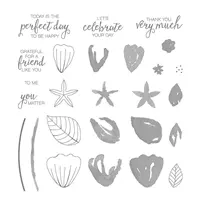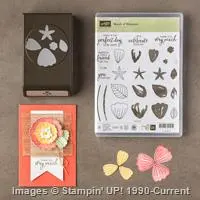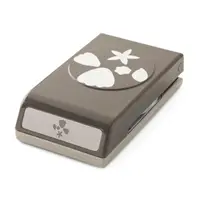 I think that we were going to say no to this stamp set but I'm glad that I changed Ann's mind.  It's really value-priced.  You get a lot of stamps for your buck.  It's perfect for the beginner or for someone who loves fonts.
I can't imagine why it's taken us so long to make something with it!  And there are some grrrreat samples on page 69 using it as well.  I'm pretty partial to the one with the burlap ribbon, aren't you?
Remember that you can get $5 off your August purchase for every $50 that you spend starting tomorrow.  Perhaps it's a good time to sit down with your Wish List.  Print out this one.  It will help you get started.
What's on the top of YOUR wish list?